Background
In 2021 Seward Refrigeration were contacted by Wolfson College with the aim of cutting carbon emissions by 75% and be net zero by 2030.
isentra were selected as the most innovative supplier to both design and build transcritical CO₂ Heat Pumps to replace the existing traditional gas boilers. These plant room based heat pumps formed the main part of a major installation by Seward Refrigeration and was commissioned in March 2022.
isentra district CO₂ heat pumps were seen as the ideal solution for this project given their capability of delivering high temperature heating water, which is compatible with existing district heating systems and the use of CO₂ which is a totally natural and non-toxic working fluid.
Consultant: Max Fordham
Contractor: Seward Refigeration
Market: District heating
End User: Wolfson College - University of Oxford
Project: High capacity transcritical CO₂ heat pumps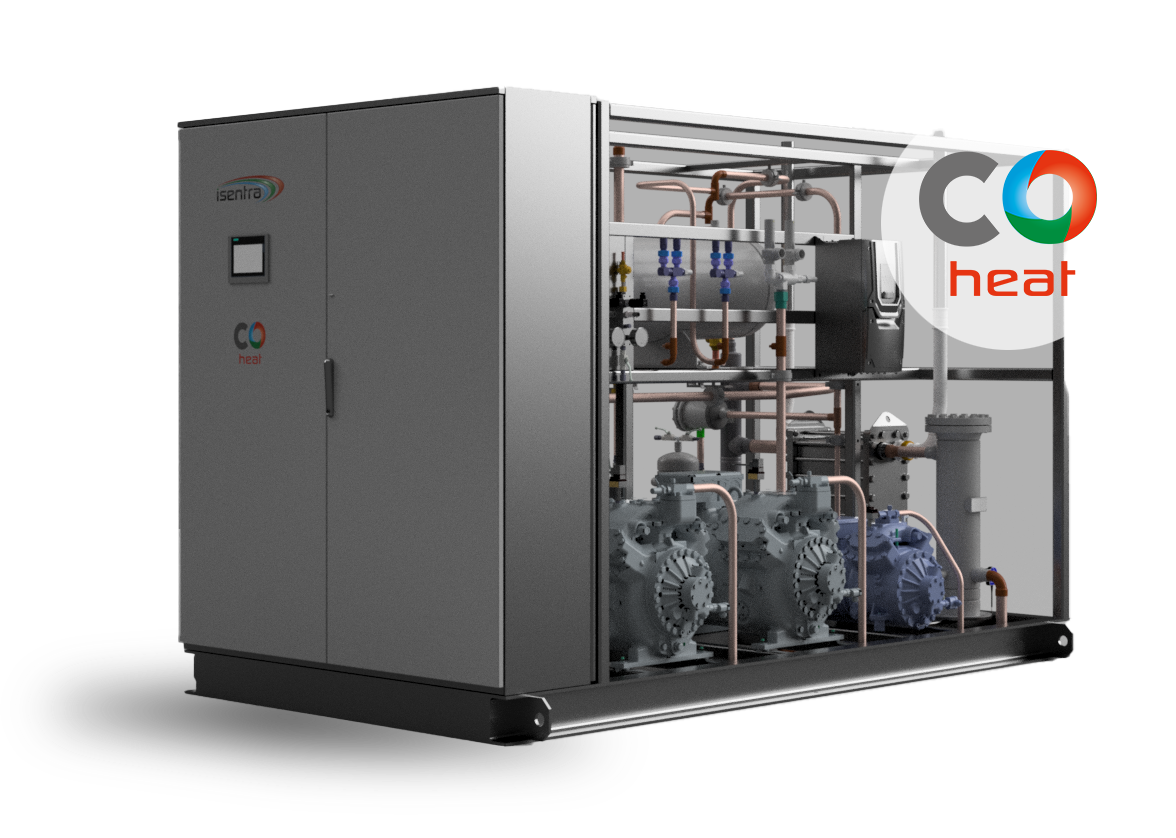 The collective goal is to reduce carbon emissions by 75% and be net zero by 2030
isentra

CO heat + University of Oxford - a pioneering solution
Heating with CO₂ applications is a natural and future proof solution for Wolfson College to help them meet its challenging climate goals and improved energy efficiency.
Innovative 'Parallel compression' 130 bar transcritical heat pumps significantly increase energy efficiency by enabling a greater degree of CO₂ vapour compression to be carried at a much lower compression ratio.
Transcritical heat pumps provide water temperatures up to 70oC and the efficient application of transcritical CO₂ requires that the return water temperatures are much lower than a conventional gas boiler system.
In addition to the district heating system, the heat pumps also heat 24,000 litres of hot tap water a day for the Domestic Hot Water (DHW) services.
Other key benefits include exceptionally low noise from the DX evaporators at 71 db(A) at one meter which are conveniently and in-conspicuously located in the college car park.
The UK Government funded 50% of this project through a 'decarbonising the public sector' grant
Results
CO₂ is not subject to any environmental legislation (like
F-Gas regulation) and is therefore a natural and incredibly environmentally friendly heat pump application. In addition to their climate goals, we have helped Wolfson college to become more energy efficient. Seasonal
space heating energy efficiency comfortably exceeds the 110% required by regulation 813/2013 with achievable SCOP figures in excess of 3.0 using the detailed EN14825 calculation methods.
isentra are very proud of this collaboration with Seward Refrigeration and Max Fordham. The technology implemented on this project includes highly innovative, optimised high pressure control practices within all heat exchangers, including evaporators and the lubrication systems.
This project is leading the way for a pipeline of future exciting technical developments which will set the benchmark in terms of CO₂ heat pump efficiency.